Buy Support Contract Extension
Product Catalog
Real-Time General Purpose Analyzer (RGPA) free software interface for KEOLABS' smart card testing platforms.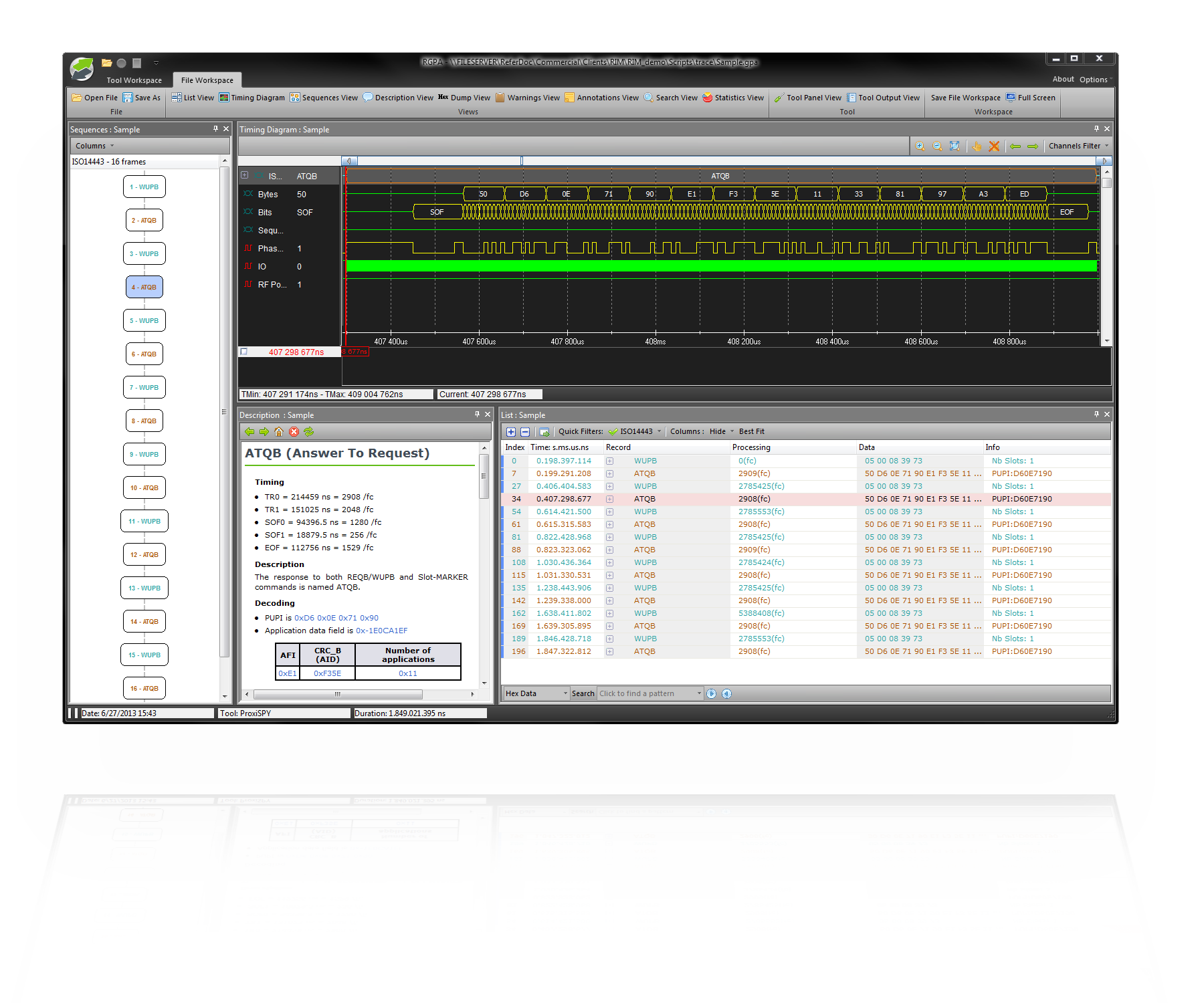 RGPA is a Windows-based interface for configuring, controlling and viewing output from all the KEOLABS smart card testing platforms. Users learn one interface, and can share their results (*.GPA, *.ZGPA) with other collaborators using this free software.
All RGPA functionalities that are specific to output, capture and analysis of communications using a specific protocol are enabled by a hardware platform (ProxiLAB, ProxiSPY, or ContactLAB) and the protocol or functional options bought by the customer.
About RGPA downloads
If you do not have a KEOLABS' hardware platform, you can use RGPA to view trace files that are generated by other users using ProxiLAB, ProxiSPY, ContactLAB and NomadLAB platforms. RGPA is free and there is no software license to activate. Download the latest version of RGPA on this page.
Please contact us if you would like to receive a sample data set for a specific protocol.
If you are using RGPA with a KEOLABS' platform to have full tool functionality, you must install the RGPA version that corresponds to the version of the ProxiLAB, ProxiSPY or ContactLAB platform software that you are using. Go to the platform's software download page and click on Details of the the platform software version that you will install. This page provides a link to the corresponding RGPA download.
Product Versions
Product Version Name
Date of publication
Description
Patches / Related Products
3.18.19.1104 (for Quest 1.04 only)

November 15, 2019

WARNING! THIS VERSION MUST BE INSTALLED FOR QUEST BUT MAY NOT BE USED TO CONTROL ANY HARDWARE...

WARNING! THIS VERSION MUST BE INSTALLED FOR QUEST BUT MAY NOT BE USED TO CONTROL ANY HARDWARE PLATFORMS.

From version 3.14 RGPA has been replaced by Quest for ProxiLAB Quest and ProxiSPY Quest. RGPA installation is still required to provide software components needed by Quest.

ContactLAB and NomadLAB are supported by RGPA up to version 3.12

Later versions of RGPA are compliant with ContactLAB and NomadLAB but support is not guaranteed.

Improvements: . "Back" buttons added for Statistics view to navigate to the previous page.


Bug fixes:
. Various bug corrections and improvements for the Timing Diagram and List
views used in Quest.
. Dark theme is always applied for Statistics view.
. RF OFF frames are not analyzed in the ISO14443 communication timings
in the Statistics view.
. S-PARAMETERS frames are handled in the Description view.

Known issues:
. Range selection with cursors removed from ISO14443 Communication Timings
and ISO15693 Communication Timings in the Statistics view.

Patches:



Related Products:

Product Version Name
Date of publication
Description
Patches / Related Products
3.16.19.0131 for Quest 1.02 only

February 14, 2019

WARNING! THIS VERSION IS ONLY INTENDED TO PROVIDE SOFTWARE COMPONENTS NEEDED BY QUEST. ALL...

WARNING! THIS VERSION IS ONLY INTENDED TO PROVIDE SOFTWARE COMPONENTS NEEDED BY QUEST.

ALL COMPONENTS THAT ARE NOT USED BY QUEST HAVE NOT BEEN TESTED AT ALL.

New features:
. Trace statistics for ISO 15693 protocol.
. Trace descriptions for ISO 18092 protocol.

Bug fixes:
. Correct bit rate information for R-Block and S-Block frames in ISO 14443 trace descriptions.

Patches:



Related Products:


3.14.17.1122 for Quest only

November 24, 2017

WARNING! This version is only intended to provide software components needed by Quest.Therefore, it...

WARNING! This version is only intended to provide software components needed by Quest.
Therefore, it must be INSTALLED BUT SHOULD NOT BE EXECUTED by the user.
All the other components like the Trace Viewer or the Tool Panel have not been tested.

Improvements:

GetTraceDuration() method added in the GPAReader API.
XGPA traces can be scrolled in the viewer by dragging the time scale

axis.

Search and annotations features added for the XGPA viewer.
Columns can be hidden / displayed in the list view for the XGPA

viewer.

A KWAV file can be exported from an XGPA file with the GPAReader API.
SelectNextNode() method in the GPAReader API now uses the end time of

the parent node in order to select the child, and not the end time of

the grandparent.

Fixes:

Range displayed for the maximum supported frame size extended to 4096 for ISO14443 Type A and B descriptions.
Communication speed correctly displayed if there is no level 2 and up to 6.78 MHz channel for ISO14443 Type A descriptions.
Some values displayed were incorrect in MIFARE UltraLight and ISO15693 descriptions.

Patches:



Related Products:


3.12.17.0227_RGPAOnly

April 27, 2017

Fixes:. Bug fixes and stability improvements for XGPA Viewer.

Fixes:
. Bug fixes and stability improvements for XGPA Viewer.

Patches:



Related Products:


3.12.17.0227

March 31, 2017

This version includes a Beta version of Quest software environmentintended to be used with ProxiLAB...

This version includes a Beta version of Quest software environment
intended to be used with ProxiLAB Quest Toolbox. Please note that this
environment is not compatible with the 64 bit version of Python.

Fixes:
. Bug fixes and stability improvements for XGPA Viewer.

Patches:



Related Products:


3.10.16.610

June 20, 2016

RGPA 3.10.16.0610Trace Viewer:         . Integrates a new viewer for opening XGPA File Formats...

RGPA 3.10.16.0610

Trace Viewer:
         . Integrates a new viewer for opening XGPA File Formats.
         . This version of XGPA Viewer is a limited version of Trace Viewer where the following views and features are not available:
            - "Sequences".
            - "Annotations".
            - "Search".
            - "Info Columns in List Views".   

Patches:



Related Products:


3.08.14.1124

January 19, 2015

Fixes: . Scripting Workspace usability improved with several bug fixes and new...

Fixes:
. Scripting Workspace usability improved with several bug fixes and
new functionalities.
. Annotations usability improved with several bug fixes and new
sorting functionality.
. Fix bug on filtering 'List view' using Quick Filters.
. Fix bug on Searching 'List view' using the Search Status Bar.
. Fix bug on 'Sequences view' where records where not properly
displayed.

Improvements:
. Improved 'Tool Output View' with highlighting erros and commands.
. Embedding the Python interpreter for generating and executing
scripts.

Patches:



Related Products:


3.07.14.0409

April 18, 2014

Fixes: . Improved overall stability. . Search view correction...

Fixes:
. Improved overall stability.
. Search view correction.
. Satistics: ICAO analyzis corrected.

Improvements:
. New Scripting Layout.
. Statistics view: CLF timing analyzis improved.


Patches:



Related Products:


3.06.14.0116

January 16, 2014

Fixes: . Tabbed panes were not saved in the Workspace. . Improved ISO14443...

Fixes:
. Tabbed panes were not saved in the Workspace.
. Improved ISO14443 protocol descriptions.
- processing time corrected
- ATS display bug corrected in the list view
. Corrected direction icons.

Improvements:
. Improved speed of realtime display.
. Improved speed of displaying tool's output logs.


Patches:



Related Products:


3.05.13.0627

July 2, 2013

RGPA 3.05.13.0627 (Released 2013/06/27) --------------------------------------- Fixes...


RGPA 3.05.13.0627 (Released 2013/06/27)
---------------------------------------
Fixes:
. Layout workspace and List columns' settings are no more saved in GPA files.
. RGPA window position and size is saved from one session to another.
. Clicking a channel in Timing Diagram would not always select the channel.
. Opening gpa files with scripts would not display the file if RGPA is minimized.
. Zooming In would center the timing diagram to the cursor position.
. Searching patterns was case sensitive in List View.

Improvements:

. Improved GSM Sim (ISO7816) protocol descriptions.
. Improved NDEF descriptions.
. Vertical Zoom.
. Reset command for the Workpsace Layout.
. New 'Copy' command from the List view popup menu .
. Opening gpa files with scripts would not display the file if RGPA is minimized.
. Zooming In would center the timing diagram to the cursor position.
. Searched patterns are highlighted in List View.
. Ctr+TAB command to toggle between File and Tool workspace.


Patches:



Related Products:


3.04.13.0307

April 4, 2013

RGPA 3.04.13.0307 Fixes: . Export function of the List View exports the whole exchanged data...

RGPA 3.04.13.0307
Fixes:
. Export function of the List View exports the whole exchanged data.
. Memory leaks.
. Error in display when using several instance of RGPA.
. Opening corrupted trace files could generate a GPF.
. The 'Save As' command will propose by default the ZGPA format.
. Panes display the GPA filename in their title bar.
. Opening several RGPA for viewing several files could mix the content of the trace files.

Patches:



Related Products:


3.02.12.1116

November 20, 2012

=============================================================================== KEOLABS S.A.S. 17,...

===============================================================================
KEOLABS S.A.S.
17, Av Jean Kuntzmann
F-38330 Montbonnot - France

Phone: +33(0)476610230
Fax: +33(0)476418168
Web: www.keolabs.com
Support:
Info:
Sales:

--------------------------------------------------------------------------------
RGPA Version 3.02.12.1116 Release Notes 2012/11/16
--------------------------------------------------------------------------------
Copyright (c) 1995-2012 KEOLABS S.A.S. All rights reserved.

Thank your for choosing KEOLABS development tools for your smart card
project.

These are the release notes for the KEOLABS General Purpose Analyzer called
RGPA.
These notes include specific information about the RGPA software including
current version, new features, fixes and known limitations.

================================================================================

--------------------------------------------------------------------------------
CONTENTS
--------------------------------------------------------------------------------

SECTION 1 General information
A. Supported configurations/platforms
B. Supported tools

SECTION 2 Version history

--------------------------------------------------------------------------------
SECTION 1 General information
--------------------------------------------------------------------------------

A. Supported configurations/platforms

RGPA operates on Windows 7 (32 and 64-bit),
Windows Vista (32 and 64-bit) and Windows XP SP3 (32-bit only).
Other versions of Windows, including Windows 2000, Windows XP 64-bit
and Windows Server, are not supported.
Administrative rights are required in order to install this software.

Only native versions of Windows are supported. Emulators such as VMware,
QEMU, Citrix, Wine, Xen (or others) are not supported.

B. Supported tools

RGPA is our Windows-based interface for configuring, controlling and
viewing output from all the KEOLABS smart card hardware tools. Users
learn one interface, and can share their results (*.GPA, *.ZGPA) with
other collaborators using this free software

RGPA3.2 is a major update of RGPA software. For this release, we have
increased our focus on speed, precision and ease-of-use.

--------------------------------------------------------------------------------
SECTION 2 Version history
--------------------------------------------------------------------------------

RGPA 3.02.12.1116 (Released 2012/11/16)
---------------------------------------
Bug fixes:
. Improves overall reliability and performance in many areas of the application.

Improvements:

GUI:

. A new task-oriented GUI based on MicroSoft "Fluent User Interface".
. The interface handles two workspaces, one for using the tools (Tool
Workspace) and one for viewing trace files (File Workspace).
. The user could save the layout display for each workspace.
. The user could choose different colored themes for the overall Look
and Feel of the interface.
. Log View popup menu to copy and clear the view

Tool Management:

. Ability to display the traced file during the recording process (Real
Time mode).
. A new explorer view for script files, helping the user record, view
or run script files directly from RGPA.

File Viewer:

. Major improvement in speed and memory usage reading GPA files.
. RGPA could open several GPA files at the same time.
. Enhanced "List View", with additional information columns, filtering
and search commands.
. "Description View" content has been thoroughly reworked and improved.
. Enhanced "Chronogram View" with a 'Full screen' mode, grouped
channels, filtering commands, and per channel settings.
. "Chronogram View" could now handle up to ten cursors.
. A new view "Sequences View" that vertically displays the order of the
events.
. A "Dump View".
. The user could save 'Anntotations' in GPA files.
. "Statistics View" content has been thoroughly reworked and improved.
. "Search View" content has been thoroughly reworked and improved.
. 'Best Fit' A new command for automatically resizing the List View
columns.

==================End of File===================================================


Patches:



Related Products:


2.5.1049

January 30, 2012

Patches:



Related Products:


2.5.1047

May 10, 2011

Patches:



Related Products: