Buy Support Contract Extension
Product Catalog
Software installation for ContactLAB emulator, reader and spy platform.
For ContactLAB, download both the RGPA and the ContactLAB software installations.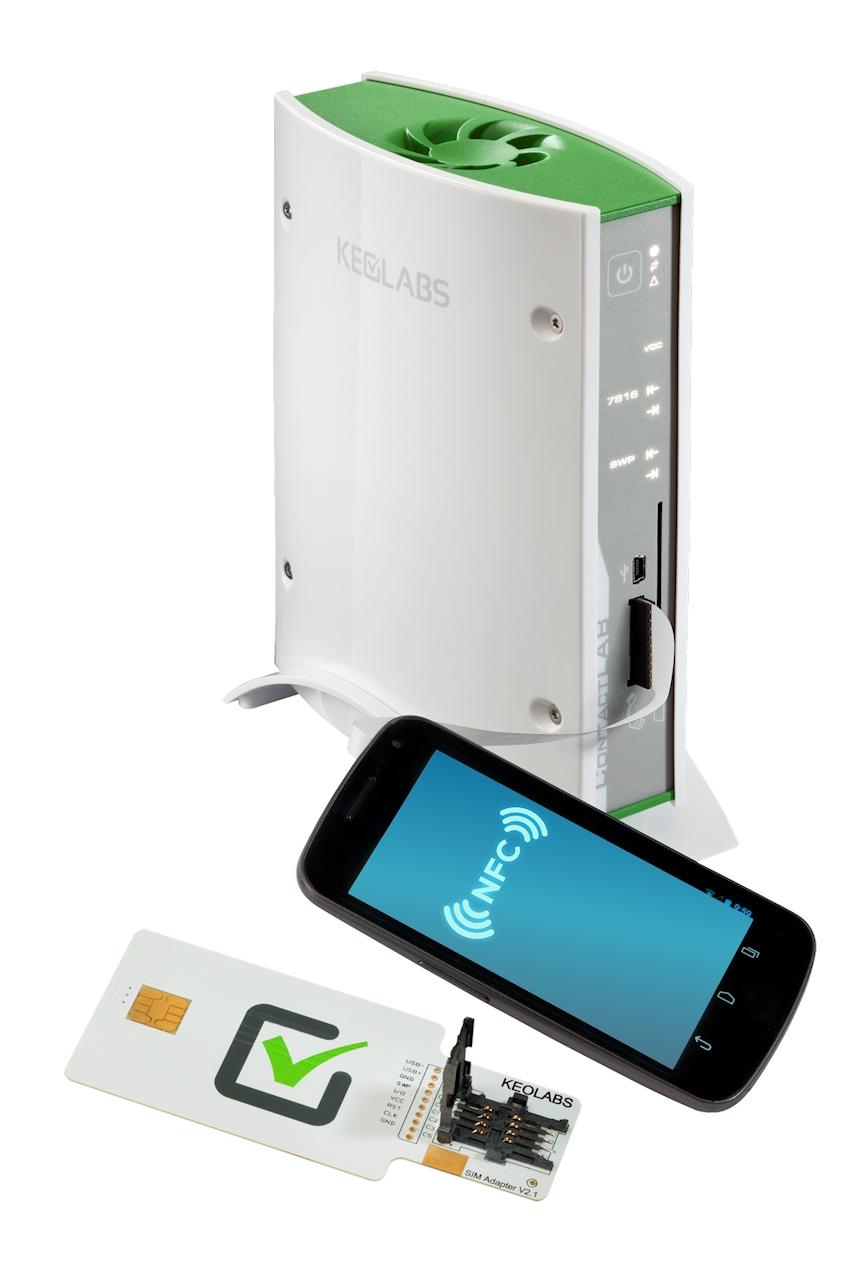 Click on Details for the ContactLAB software version to access the corresponding RGPA software version.
About RGPA
RGPA may be used to view traces from any KEOLABS test platform even if you do not have a ContactLAB platform connected your computer.  This facilitates exchange of your test results and does not require activation with a license key. Please contact us if you would like to receive a sample data set for a specific protocol.
License Activation
If you are updating software, the ContactLAB software will not function if your technical support contract has ended. End of the technical support contract is one year after purchase and activation. The "Support End Date" is provided on your Home page under "My Products."
To activate ContactLAB, install the PC software, register the software and activate its license.
Login on this site. If you do not have an account, go to Home>Create an Account.
Create your account and login.
Install the software on your PC in the order RGPA then ContactLAB.
Connect ContactLAB to a USB port on your PC.
Launch the software and follow the instructions provided in the RGPA interface.
Product Versions
Product Version Name
Date of publication
Description
Patches / Related Products
3.14.17.0615

June 21, 2017

ContactLAB 3.14.17.0615 Require RGPA 3.12.17.0227_RGPAOnly Correction from ContactLAB 3.12.17.0505...

ContactLAB 3.14.17.0615

Require RGPA 3.12.17.0227_RGPAOnly

Correction from ContactLAB 3.12.17.0505
      . USWP Send frame timeout correction
      . UART Rx ISO7816 Low parity transition test
     
New Features:
      . ISO7816 card emulator for EMVeriPOS integration
      . Increase sequencer memory size 128 times bigger (only from hardware version >= V1.4.F)
      
Hardware:
      . V1.4.G : new calibration process
        . Increase measurement and generation accuracy for analog signals
        . Analog measurement implemented C3(CLK) and C7(IO)

Bug Fixes:
      . ISO7816 T=1 CRC calculation corrected
      
Others:
      . Added Examples\Python\MultiTools\ContactLAB_ProxiSPY_trace.py
        Each tool spies its communication independently, then their traces are
        merged together by software
      . Added Examples\JScript\AnalogSpy\AnalogWindow_IccIdle.js
      . Added Examples\JScript\AnalogSpy\AnalogWindow_ISO_IO_CLK.js
      . Added Examples\JScript\UISO7816\UISO7816_ParityErrorTx.js
      . Added Examples\JScript\UISO7816\UISO7816_CGT_16.js
      . Added Examples\JScript\UISO7816\UISO7816_ParityErrorRx.js

Patches:

Related Products:

Product Version Name
Date of publication
Description
Patches / Related Products
3.12.17.0505

April 27, 2017

Version certified EMV for EMVirPOS test suite ContactLAB 3.12.17.0505 New Features:      . ISO7816...

Version certified EMV for EMVirPOS test suite

ContactLAB 3.12.17.0505
 New Features:
      . ISO7816 card emulator for EMVeriPOS integration
      . Increase sequencer memory size 128 times bigger (only from hardware version >= V1.4.F)
      
Hardware:
      . V1.4.G : new calibration process
        . Increase measurement and generation accuracy for analog signals
        . Analog measurement implemented C3(CLK) and C7(IO)

Bug Fixes:
      . ISO7816 T=1 CRC calculation corrected
      
Others:
      . Added Examples\Python\MultiTools\ContactLAB_ProxiSPY_trace.py
        Each tool spies its communication independently, then their traces are
        merged together by software
      . Added Examples\JScript\AnalogSpy\AnalogWindow_IccIdle.js
      . Added Examples\JScript\AnalogSpy\AnalogWindow_ISO_IO_CLK.js
      . Added Examples\JScript\UISO7816\UISO7816_ParityErrorTx.js
      . Added Examples\JScript\UISO7816\UISO7816_CGT_16.js
      . Added Examples\JScript\UISO7816\UISO7816_ParityErrorRx.js

Patches:



Related Products:

3.10.16.0613

June 20, 2016

ContactLAB 3.10.16.0613Requires RGPA v3.10.16.0610New Features:      . Circular trace with...

ContactLAB 3.10.16.0613


New Features:
      . Circular trace with triggering
      . Script-based control of multiple ContactLAB platforms from one PC
      . Spy of I2C and SPI interfaces (on SMA port)
      . GUI controls for I2C/SPI spy settings in RGPA
      . Spy of up to 3 SWP interfaces
      . Enhanced analyzer output file
      . Output of trace in generic file format

Improvements:
      . Corrects HCI analyzer bug
      . Corrects ISO 7816 spy-on-the-fly analyzer, end of frame detection
      . Manages ISO 7816 card repeat request
      . Corrects sequencer with CLT-F
      . Corrects ISO 7816 T=1 send frame function
      . Corrects ISO 7816 reader parity error
      . Synchronizes trace with file on the cloud 
      . Supports trace files up to 10GB
      . Corrects GOTO_INIT bug
      . Fix 3195: fixes circular trace buffer to allow spy for several days

Documentation:
      . Application note ANSC0010 Use of multiple ContactLABs from one PC
      . Application note ANSC0009 Spying SPI and I2C serial interfaces
      . Application note ANSC0011 Concurrent spying of multiple SWP interfaces 
      . ContactLAB programming guide updates with latest API

Patches:



Related Products:

3.08.15.0612

June 15, 2015

    ContactLAB 3.08.15.0612      New Features:      . ToolBox:        . Replay Script, create a...

    ContactLAB 3.08.15.0612

      New Features:
      . ToolBox:
        . Replay Script, create a script from a RGPA acquisition
        . Capacitor Measurement, perform a capacitor measurement on the C6 line, and edit a sequence reporting
        . Shmoo script to do a variation of a ISO paramater in function of C3 clock speed and display a graphical result
      . Waveform generation on C6 and Vcc, script, API and documentation update
      . Waveform generation, add a user custom waveform parameter
      . Add resume event (card) in timer/trigger
      
      Hardware:
        V1.4.E
        . Decrease the C6 rising time to 5µs
        . Decrease the Vcc rising time
        . Increase the Icc idle accuracy to 10µA

      Improvements:
      . Trace Timer overflow management. Avoid timing error on timer overflow
      . Add record on trace Stop
      . Correct the SWP bit generator to avoid lost and too long bit
      . Add S2_Resume signal to trigger
      . Correct the Resume and suspend idle bit counter
      . Mifare Synchronize data and FIFO transfer
      . Increase the Resume Time duration to support delay upper to 2500µs
      . CLT type F getframe correction
      . Correct HDLC disable methode
      . Allows tr tf DAC value smaller than 10ns
      . Increase the usb read speed to avoid trace overflow (Allow more than 2Mbits data sampling)
      . Trace file path in GUI now available
      . Add an optional param to check(or not) the Goto halt & Goto init
      . Add display bits & bytes option for the RF analyzers
      . Change verification for the HDLC windows size
      . CLT goto halt modification
      . Analog spy position overflow correction
      . Correct the number of analog sample read and trigger position
      . Add S2 resume state to trigger and event sequencer
      . Add output messages on SWP commands
      . Change Sequencer Loop and LoopFor to obsolete method
      . Increase the S2 measurement accurasy on analog window mode
      . SWP analyzer enhancement
      . Mifare analyzer enhancement
      . HCI analyzer enhancement
      
      Trackers Fixes:
      . 4538 pattern recognition issue on trigger
      . 4544 Vcc is cut during SWP card emission
      . 3688 ti=1000000, clock is not raised by Clab
      . 3698 F90380 in API whereas F90301 in RGPA
      . 5546 - 6123 generate replay script does not work
      . 3932 Unable to open up the RGPA
      . 5764 Function missing for CLT mode in API
      . 5920 Recuperation traces dans ReceiveCLTTransparent CLT
      . 3422 incorrect measurements on ICC Idle



Patches:



Related Products:

3.06.14.0904

September 29, 2014

ContactLAB 3.07.14.0409 Software Release Note: New Features: . ISO7816 spy on...

ContactLAB 3.07.14.0409 Software Release Note:

New Features:
. ISO7816 spy on the fly, allow to spy ISO7816 communication without the
beginning of a communication (without ETU speed negotiation)
. 3GPP APDU decoding, decoder selector and

Hardware:
. Manage a negative offset on C1_VCC and C6_S1 signals (Beta test, not fully calibrated)
. Increase outputs voltage accuracy

Improvements:
. Increase SWP Reader Bitrate to 3392Kb/S
. Correction TH0 and TH1 settings, truncated values
. Correct HDLC disable method
. ISO7816 Ti & card IOs timing improvement

Trackers Fixes:
. 4740 HCI: getFrame is temporary blocked
. 3694 during multi-IO test, SW is not displayed properly
. 3188 Store hard/soft release in trace
. 4800 Fast frames, with wrong number
. 4905 Bad ISO analysis: SW is interpreted as class-ins
. 5134 (tearing) System.OutOfMemoryException
. 5267 10s timeout for cold reset
. 4755 Reader is repeating power frame after low power mode


Patches:

Related Products:

3.4.14.0417

April 18, 2014

Hardware: . Support new ContactLAB V1.3 platform (New KEOLABS casing, GP features)...

Hardware:
. Support new ContactLAB V1.3 platform (New KEOLABS casing, GP features)

Improvements:
. Record uploading speed increased to avoid trace overflow
. ISO7816 Timing characterization scripts integrated in ContactLAB Toolbox
. Trace files management improvements
. CLF timing analyze improve
. Re-design trigger panel as ProxiLAB

Bug Fixes:
. 4272 EventTransaction_decoding: this event is decoded as card Deactivated event
. Frame_As_ATS: RF is decoding frames as ATS
. PayPass_ATS_Type_A: 4 bytes are interpreted as data in Display Listinstead 5 bytes
. HDLC frame acknowledge with sequencer mode (piggybacking)
. Synchronization of Analog and Digital trace
. Character correction for Korean front
. Remove bad direction info wrong error in PPS in M2M mode
. Allow C2 RST, C3 CLK, C7 IO voltage range to reach 5V5.


Patches:



Related Products:

3.2.13.0531

June 18, 2013

New Features: . Waveform generation for C1 VCC and C6 S1 signals This feature will fix tearing...

New Features: . Waveform generation for C1 VCC and C6 S1 signals This feature will fix tearing issues and Vcc adjustment during communication. . Felica analyser with ProxySpy contactless spy . Start/Stop timer on different event Bug Fixes: . Important Software and Firmware improvement See ContactLAB installation "Release Note" for more details

Patches:



Related Products:

3.2.12.1116

November 20, 2012

Patches:



Related Products:

3.2.12.1120

November 20, 2012

Bug fixes: . HDLC : Bypass ACT Corrected . GetACTSyncId bug correction . SWP GetFrame bug...

Bug fixes: . HDLC : Bypass ACT Corrected . GetACTSyncId bug correction . SWP GetFrame bug correction. Previously return 0 even if an other frame was available. . Sequencer & HDLC bug correction. IFrames were retransmited after the end of the sequence. . ISO7816 Bug correction: Soft timeOut occured if Tb was > 3s . ISO7816 Bug correction: Ti time was duplicated after the cold reset. Improvements: . StopSource property added to timers (different from StartSource) . CurrentSettings.ini is now located in DocumentsRGPAContactLABConfig . Improved management of command files (browse/new/save file as and delete command)

Patches:



Related Products:

3.2.12.0719

July 25, 2012

- Delay reduction for C6 direct action - Trigger delay time correction - Timer Getmeasurement...

- Delay reduction for C6 direct action
- Trigger delay time correction
- Timer Getmeasurement method corrected for big values
- Installation correction for User accounts on W7
- SWP: Voltage: SetS1TransientTime method regression fixed.
- PCSC driver corrected.
- Analyzer: Handle ISO7816 parity errors and repeat signals
- Analyzer: HCI: Save and Load context function added
- Analyzer: HCI: decode HCI set and get param for RF gates with HciContext
- Add I2C controller connected to SMA 2 & SMA 3

Patches:



Related Products:

3.2.12.419

April 19, 2012

- Clock redirection on SMA corrected - .exe memory leaks corrected (exe file doesn't increase any...

- Clock redirection on SMA corrected
- .exe memory leaks corrected (exe file doesn't increase any more)
- Sequencer reset HDLC Ns & Nr bug corrected
- Possiblity to affect SMA3 to C6Output
- Enlarged ISO7816.Timing.tb to 24 bits
- Shape of rising of I/O at power up.
- USWP added WakeUp bit before SOF
- Fixes Statistics/ISO7816 activation timings
- Fixes Statistics/ISO7816 communcation timings
- LLC get state method corrected
- Extended SWP EMU Resume Time P3 from 255 µs to 65 ms

Patches:



Related Products:

3.1.12.127

January 30, 2012

SWP: - Add possibility to analyze SWP protocol on SMA - SetS1TransientTime - SetVccTransientTime -...

SWP:
- Add possibility to analyze SWP protocol on SMA
- SetS1TransientTime
- SetVccTransientTime
- Reader.SWP.TH0
- Reader.SWP.TH1
- Reader.SWP.BitRate property may now take any value between 28 and 3392 kbps, with a minimum precision of 11 ns on the period (allowing to reach the 1µs, 3µs and 5µs defined by ETSI)
- Reader.SWP.ResumeTime property : higher precision and greater range
- Bugfix: HDLC GetFrame
- Logger bug correction: SOF or EOF and byte received at the same time.

ISO7816:
- ISO7816 reader line boost at the start of guard time to for better high speed management.
- PCSC driver now supports TA1=97

Others:
- Included Windows 64-bit driver (+ driver is now signed)
- Added Trigger.Count property
- Serial number format change. Now A.B.YY.MMDD
- ContactLAB.WorkingDirectory property
- Extended timers to 12 min
- Added Examples/JScript/Timer/ATR_PPS_APDU_meas_seq.js


Patches:



Related Products:

3.0.0.3065

May 16, 2011

* Select ISO7816 analyzer when switching to Full Spy Mode. * Trace is stopped if an overflow occurs...

* Select ISO7816 analyzer when switching to Full Spy Mode.
* Trace is stopped if an overflow occurs
* New values in the GUI in the ICC step for the analog trace function
* ISO7816 endurance through PCSC bug fix
* Changed the format of the FPGA firmware version to YY.MM.DD,
and the format of this constant in the Spycare file to YYddd, where ddd is (MM-1) x 12 + DD
* Fixed a bug about analog trigger and negative threshold values
* Extended timers to 30s
* ExamplesJScriptISO7816_ClockSleep_ATR.js
* ISO7816 analyzer: fixed a confusion between cold and warm ATR
* ISO7816 analyzer: fixed a decoding issue about repetition bit.
* Analog Window: ICC IDLE values were not converted to µA as exposed in the CSV file header.
* Sequencer reset when timeout occurred corrected.
* Trace Read Thread modified. The 1,3 ms delay of the clock frequency acquisition are now offseted in software.
* SWP logger: fixed a bug when logging full duplex frames with bytes arriving simultaneously.
* I2C: V3055 introduced a bug: all ContactLAB without a MiFare chip suffer from an I2C freeze at start up, due to a change in the VHDL of the I2C controller.
* Trace: reactivated USB EOP line
* SpyCare: added the ResetMarker() method.

Patches:



Related Products:

3.0.0.3061

May 10, 2011

ExamplesJScriptISO7816_ClockSleep_ATR.js

ExamplesJScriptISO7816_ClockSleep_ATR.js


Patches:



Related Products:

3.0.0.3060

March 23, 2011

Patches:



Related Products:

3.0.0.3059

February 8, 2011

Patches:



Related Products: